Workshops, Clinics, Seminars & Events
ChiRunning Level 1 Workshop

Vancouver, BC

ChiRunning Level 1 Workshop

Okotoks, AB

10:00am – 2:00pm

Holy Trinity Academy

[map]

ChiWalking Workshop

Okotoks, AB

3:00pm – 5:00pm

Holy Trinity Academy

[map]

ChiRunning Level 2 Workshop

Vancouver, BC

ChiWalking Workshop

Vancouver, BC

ChiRunning Level 1 Workshop

Vancouver, BC

ChiRunning Level 1 Workshop

Vancouver, BC

ChiRunning Level 1 Workshop

Vancouver, BC

ChiRunning Level 2 Workshop

Vancouver, BC
Sunday Morning ChiRuns from Granville Island
Join Angela's Sunday morning ChiRunning group, meeting at 9:00am at Granville Island under the covered area behind Cat's Social House [map].
We start off with body loosening exercises and then run 8 - 10 km followed by stretching and possibly a visit to the local coffee shop afterwards (allow roughly for 1½ hours give or take).
This is a great opportunity to get together with others to practice the ChiRunning form, and get useful feedback.
The runs are FUN and informal and highly motivational. Angela offers this year round and will communicate with individuals when she's away or giving workshops (it is always a good idea to check beforehand if it is your first time.)
Cost: $15 drop in
Contact me if you have any questions.
Corporate and Group Events
For companies or individuals who have larger groups wanting to take a workshop together, please see below for special pricing:
6 - 10 persons – $125 per person
11 - 15 persons – $110 per person
16 - 20 persons – $95 per person
Please contact Angela for more information or to sign up your group.
Private Sessions
Please note, time and place will be arranged accordingly (depending on where you are located and availability).
Each session lasts 90 minutes (or 180 minutes) which will include body loosening exercises, form focuses for ChiRunning and stretching afterwards.
What are the Workshops?
Angela's workshops focus on the many exercises and drills designed to leave you with a clear sense of what ChiRunning technique feels like in your body.
We won't be doing a lot of running during the workshop. The focus will be on building a solid base of knowledge that you will carry forward in your running program.
All prices are in CAD.
What You'll Learn?
Introduction to the ChiRunning and ChiWalking form
Posture, Lean and Heel Lift
Effective arm swing
Gears and stride length
Optimal cadence
Relax while running
Technique for hills
Drills and Exercises to improve form
Pre-Run Looseners
Video Gait Analysis - learn from seeing yourself
Study Material
You'll get a chance to purchase all the available study material at the workshops. Angela will provide an expert explanation how to use the metronome and journal to help you achieve your running goals and become great at ChiRunning.
Danny Dreyer's DVD and updated book are great companions for your workouts. You can read up on all the details of the technique and if you're interested to learn more, Angela is there to help.
You can also purchase all materials on the ChiLiving online store.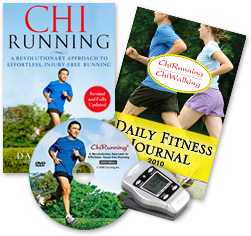 ChiRunning iPhone App
The best-selling runner's book, ChiRunning, is now an iPhone app to help you run faster, easier, and injury-free. Created by ChiRunning founder, Danny Dreyer, this app is feature-laden with ChiRunning video lessons, audio coaching, guided runs, and a built in metronome – tools for you to always run your best.
This app is not a replacement for taking the workshop. It complements the information you learn and works as a guidance for your future runs and training.
Practice your technique while tracking your distance, pace, caloric burn, and mapping your routes. The workout log function allows you to track your run history and share it with friends.