ChiRunning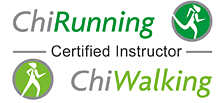 ChiRunning is a safe and effective way to run for the rest of your life. It is the world's leading natural running technique for injury prevention and improved efficiency. Taking up this technique-based training program will enable you to perform well at 5K or 10K runs, but it will also take you to the next step – running a half or full marathon.
With a holistic approach to life, it will teach you how to get rid of excess weight and improve your health and athletic performance with nutrient-rich recipes and offer sound nutritional advice and support.
ChiRunning goes hand in hand with ChiWalking, a mindful walking technique and fitness program for everyone. With ChiWalking the benefits are manifold as you learn to walk from the deep strength of your core and move in a way that prevents injuries.
Understanding of ChiRunning
I come with an understanding of what it is to suffer running injuries.
My ability to run long distances was severely compromised as a result of persistent chronic Achilles tendonitis. I became frustrated as the only relief I could find was to rest, hence I incorporated cross training into my regieme and began training for Triathlons.
It wasn't until I came across Danny Dreyer's chirunning book in 2006, while coaching with Team in Training for the Nike Women's marathon that I began to incorporate some of the principals into my running form. I found out that the technique works, and had amazing results with subsequent training sessions. I was hooked and decided to become a Chirunning instructor, which brings me up to the present where I am now able to teach others to run injury free and pain free for as long as they wish.
65% of all people that run regularly will be injured at some point during the year and have to take time off. Because of this statistic, running has been branded a high-injury sport, but the simple truth is running itself is not the problem – it's the way most people run that causes injuries. ChiRunning shows you how to reduce or eliminate the risk of common injuries and how to relax your body while running to reduce muscle use and in turn, dramatically reduce post-run muscle soreness.
ChiRunning emphasizes efficient biomechanical running form to reduce use of muscles and the pain and pounding that the body takes during recreational jogs or competitive runs.
For answers to some common questions about ChiRunning, please view the FAQs.
What I can do for you
As a Master Instructor I put a lot of thought into teaching and meeting the needs of my students. In order to achieve this I want to:
know your running challenges
understand your objectives
develop a realistic plan of your running goals
I will offer a supportive, exciting and learning atmosphere during the workshop. My expectations of my students are to come with an open mind and leave with a feeling of personal accomplishment.